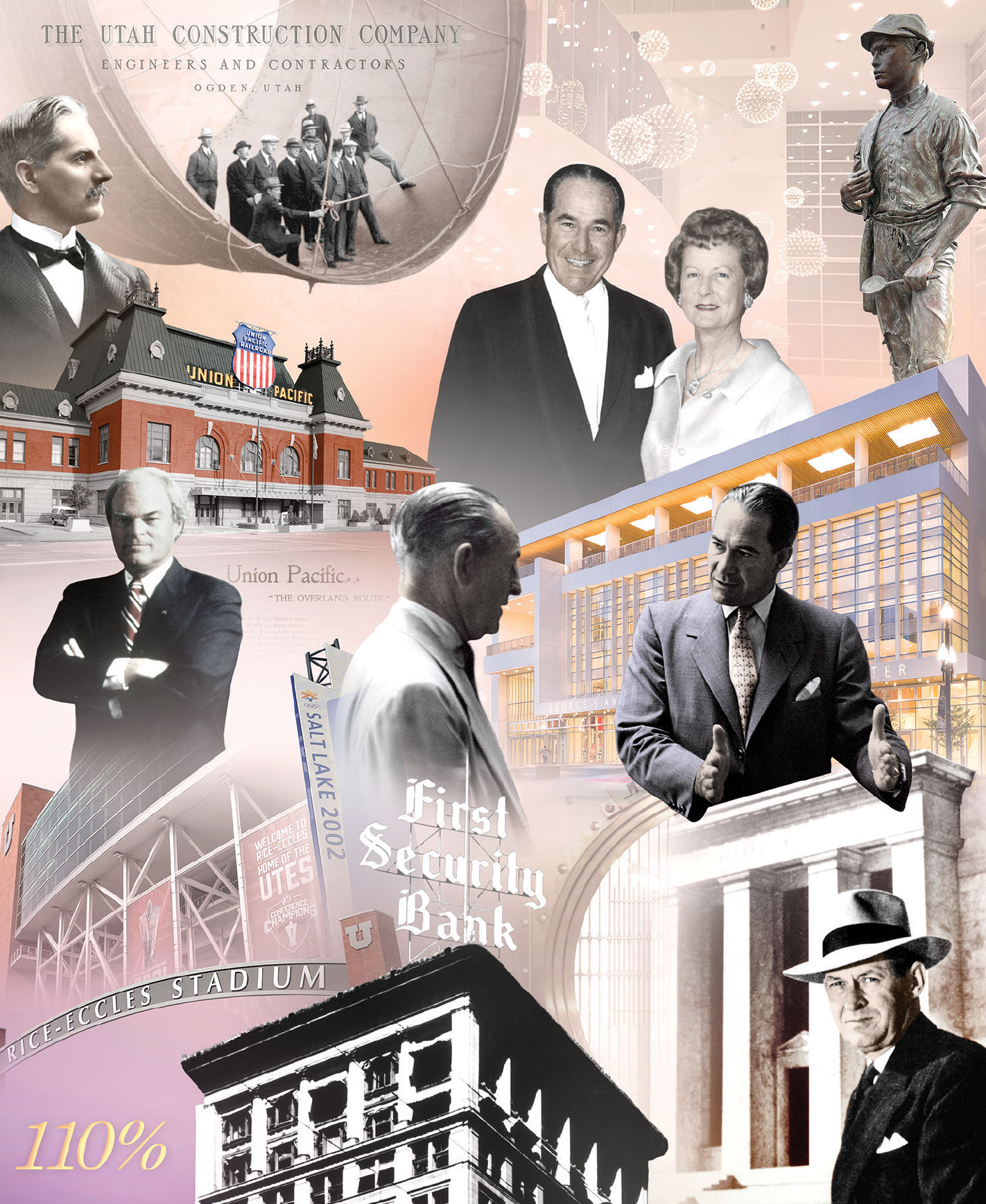 On Tuesday, November 14, 2023, The Wells Fargo Center in downtown Salt Lake City, Utah unveiled a lobby-wall mural which chronicles the Eccles Family and First Security Corporation banking history, honoring many of the people and places that have played a role in Utah's economic success for over a century.
Spence Eccles has always felt that banking is a noble profession, among the most vital to the economic strength of the state and nation. "It falls upon us to help people feel stable in times of uncertainty and to support the vitality and economic growth of our communities. It's our responsibility to further our historic First Security slogan of "Giving 110%" to not only strengthen business opportunities but also to help Utah's families open their first savings account or buy their first home."
The Mural
The Eccles and First Security Heritage Mural at the Wells Fargo Center celebrates the important role the Eccles Family and First Security Corporation have played in Utah's strong banking history. First Security's historic merger with Wells Fargo & Co. in 2000 marked the further expansion of the Eccles Family legacy.
Images courtesy of: The George S. and Dolores Doré Eccles Foundation and Wells Fargo Corporate Archives, in collaboration with the Wells Fargo Community Mural Program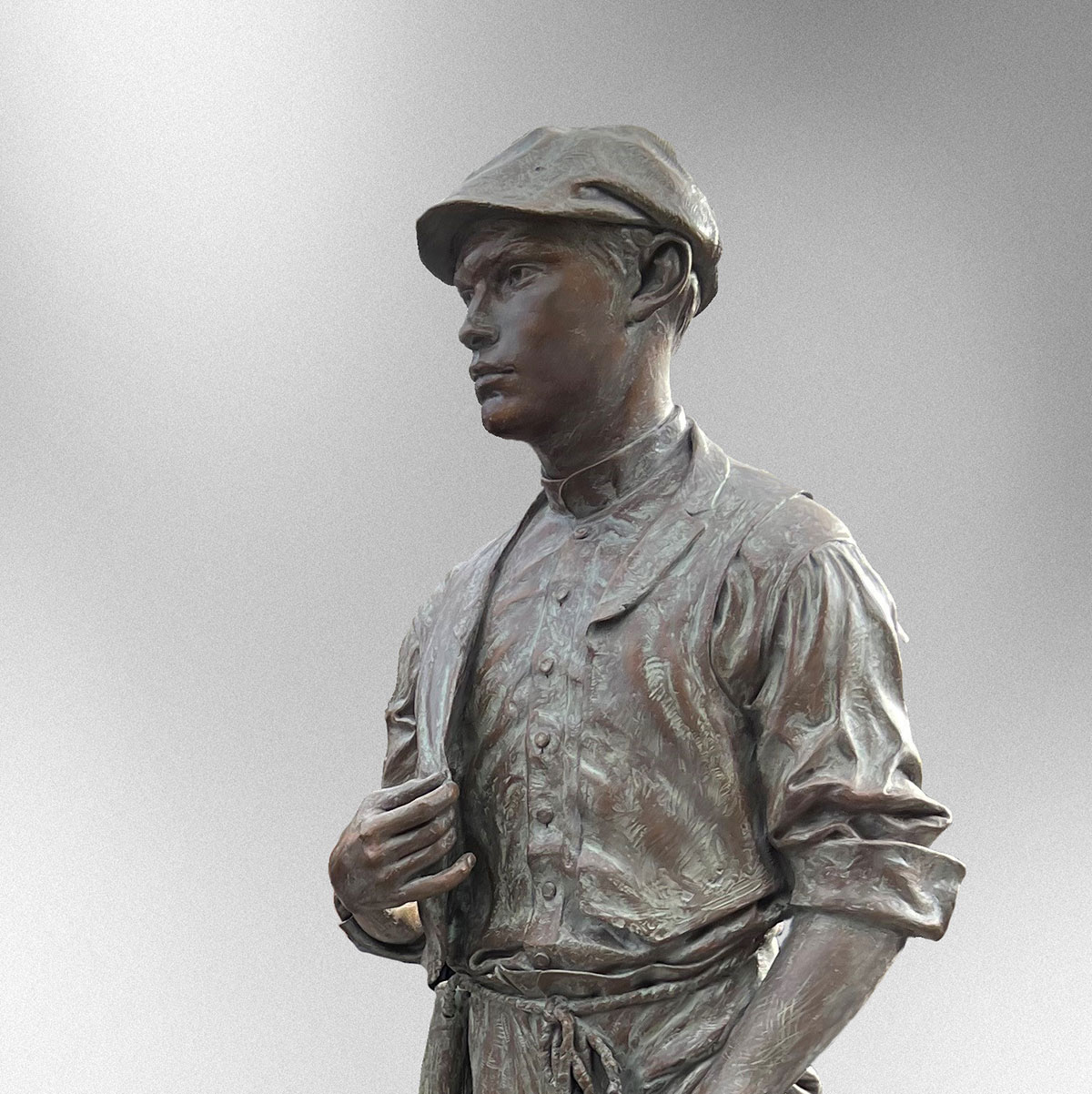 Statue of young David Eccles, Eden, Utah
This statue embodies the remarkable "rags to riches" story of David Eccles, a hardworking 14-year-old from an impoverished Scottish family who immigrated to the small Utah farming community in 1863. He would go on through his entrepreneurial spirit, determination, innovation, honesty, and integrity to become one of the most successful industrialists of the West, and is widely acknowledged as Utah's first multimillionaire. Never forgetting the poverty of his youth, his generous aid to families, businesses, and communities was well known and admired.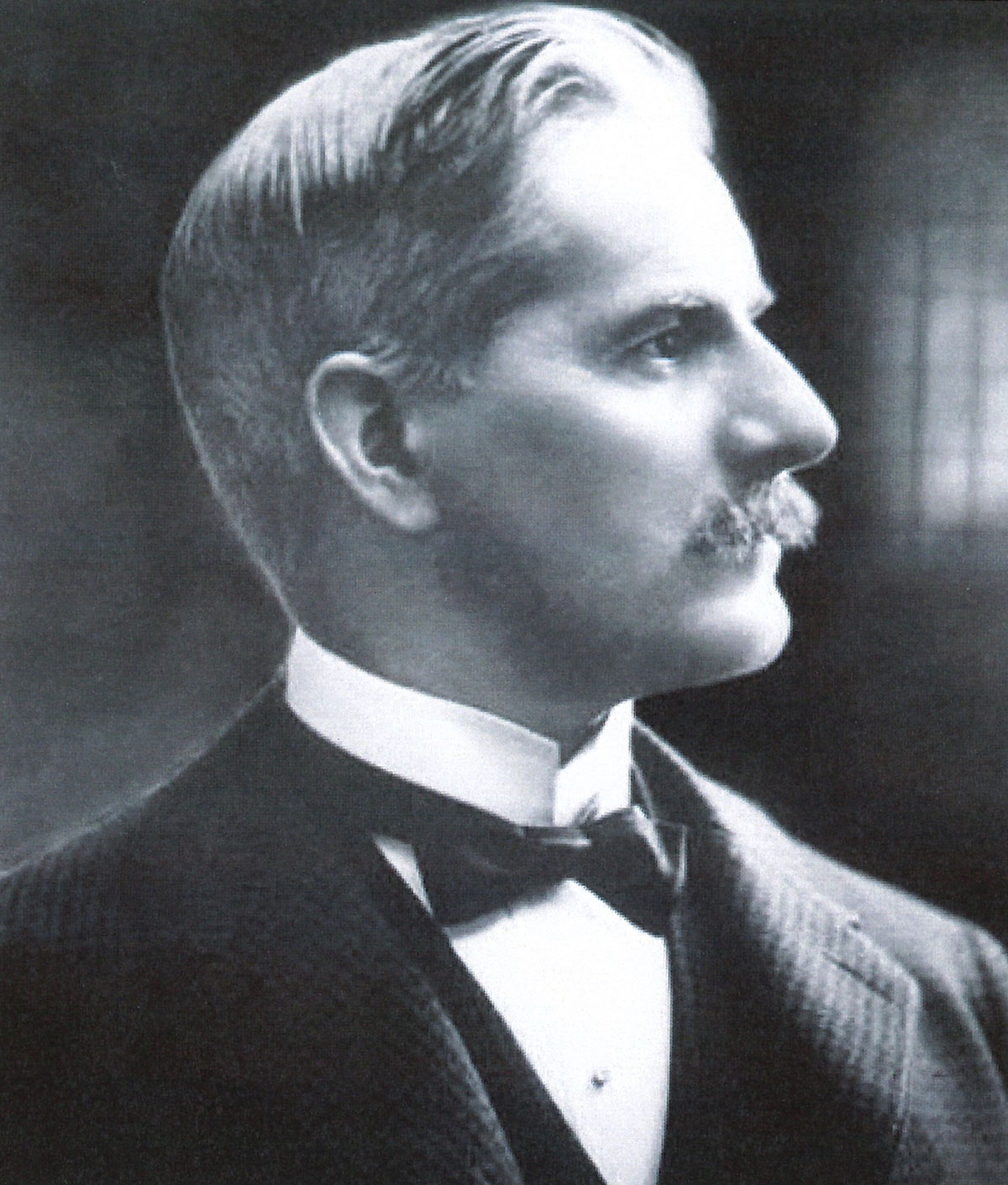 David Eccles (1849-1912)
The extensive enterprises founded and led by David Eccles extended throughout Utah, Idaho, Oregon, and Washington. Never slowing the pace of his life, and emblematic of his own youth working to support his family, he put his children to work early in their lives alongside the crews of his many businesses. In December 1912, while running to catch a train from Salt Lake City to Ogden, he died suddenly of a heart attack at only 63 years of age. At the time, he was president of 17 corporations and seven banks, and acting director of 24 businesses. News of his death reverberated across five Western states, where flags were lowered to half-staff. On the day of his funeral, government offices and private businesses throughout the West halted operations in his honor and memory. Such was the far-reaching impact of this remarkable individual whose legacy continues to benefit all Utahns through the continuing philanthropy of his Eccles family descendants.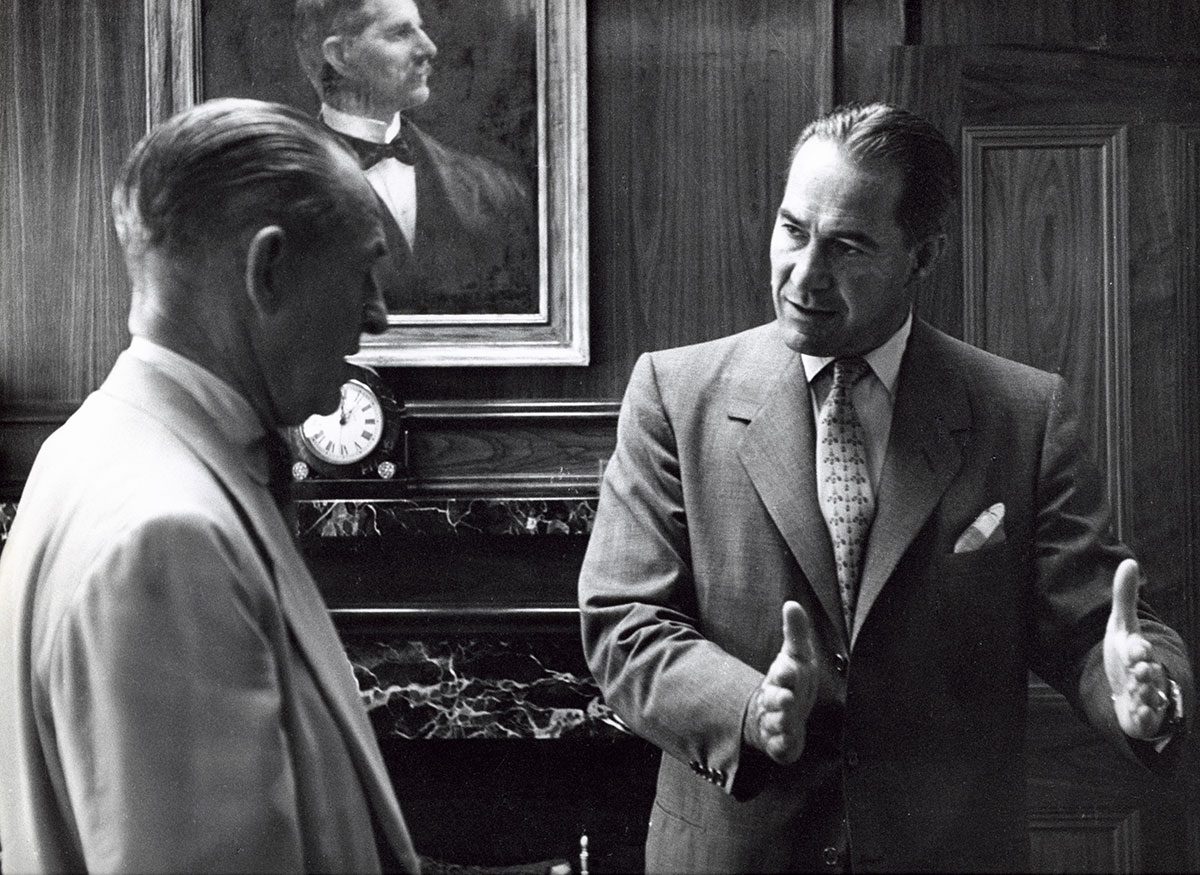 Brothers Marriner S. Eccles (left) and George S. Eccles (right)
Pictured in front of a portrait of their father, these brothers — two of the nine children of David and Ellen Stoddard Eccles — launched First Security Corporation in 1928, bringing together extensive business entities and the six banks left them by their father, who died in 1912. At the time of its merger with Wells Fargo & Co. in 2000, it was the oldest operating multi-state bank holding company in the U.S.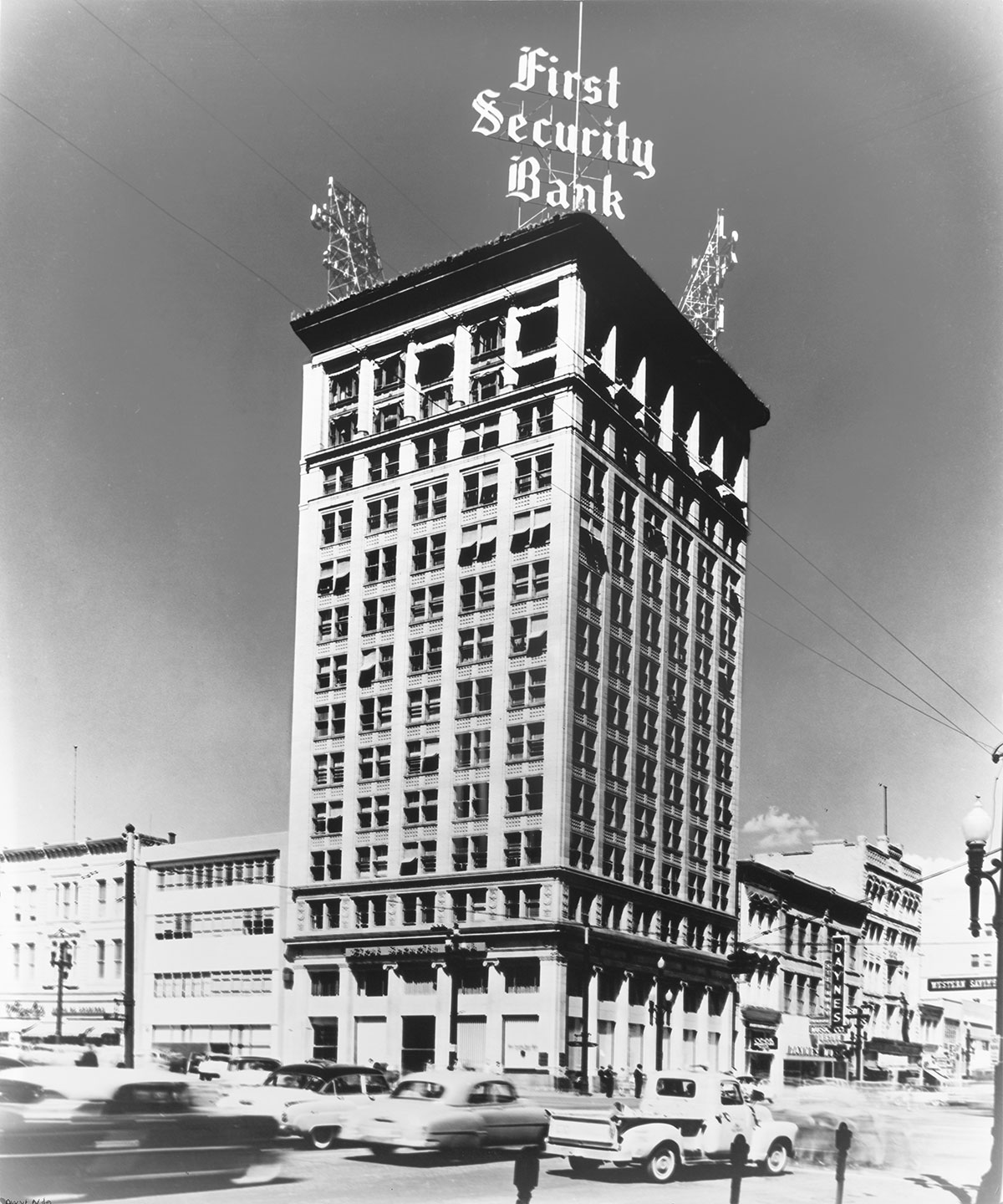 First Security Bank Building, 79 S. Main St., Salt Lake City
Erected in 1919, this iconic building on "Utah's oldest banking corner" remains today in the heart of Utah's capital city. The downtown corner was first occupied by Hooper & Eldredge Bank in a small adobe building, followed by the Bank of Deseret in 1871, founded by Brigham Young. It later became Deseret National Bank, which merged into First Security Corp. in 1932.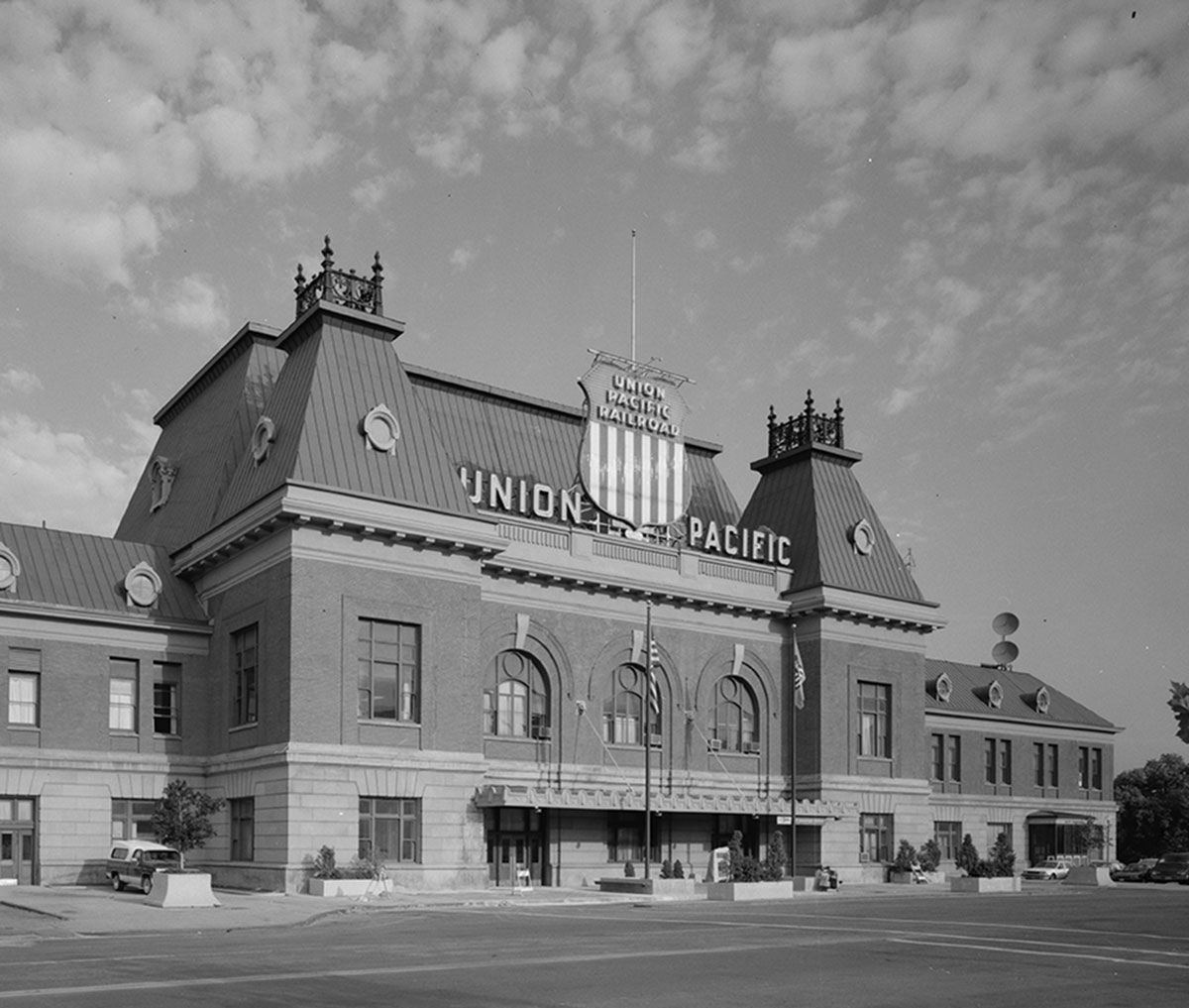 Union Pacific Railroad Depot, South Temple at 400 West, Salt Lake City
Among the vast enterprises of David Eccles were those associated with building railroads, beginning with Eccles Lumber Company that supplied railroad ties for this burgeoning industry in the West. He and his associates built the Sumpter Valley and Mt. Hood railroads that shipped supplies for the Union Pacific Railroad as it became part of the first Transcontinental Railroad spanning the nation. For decades since, the Eccles family's strong ties to Union Pacific have included service on its Board of Directors, including Spencer F. Eccles who concluded his nearly 30 years of board membership in 2006.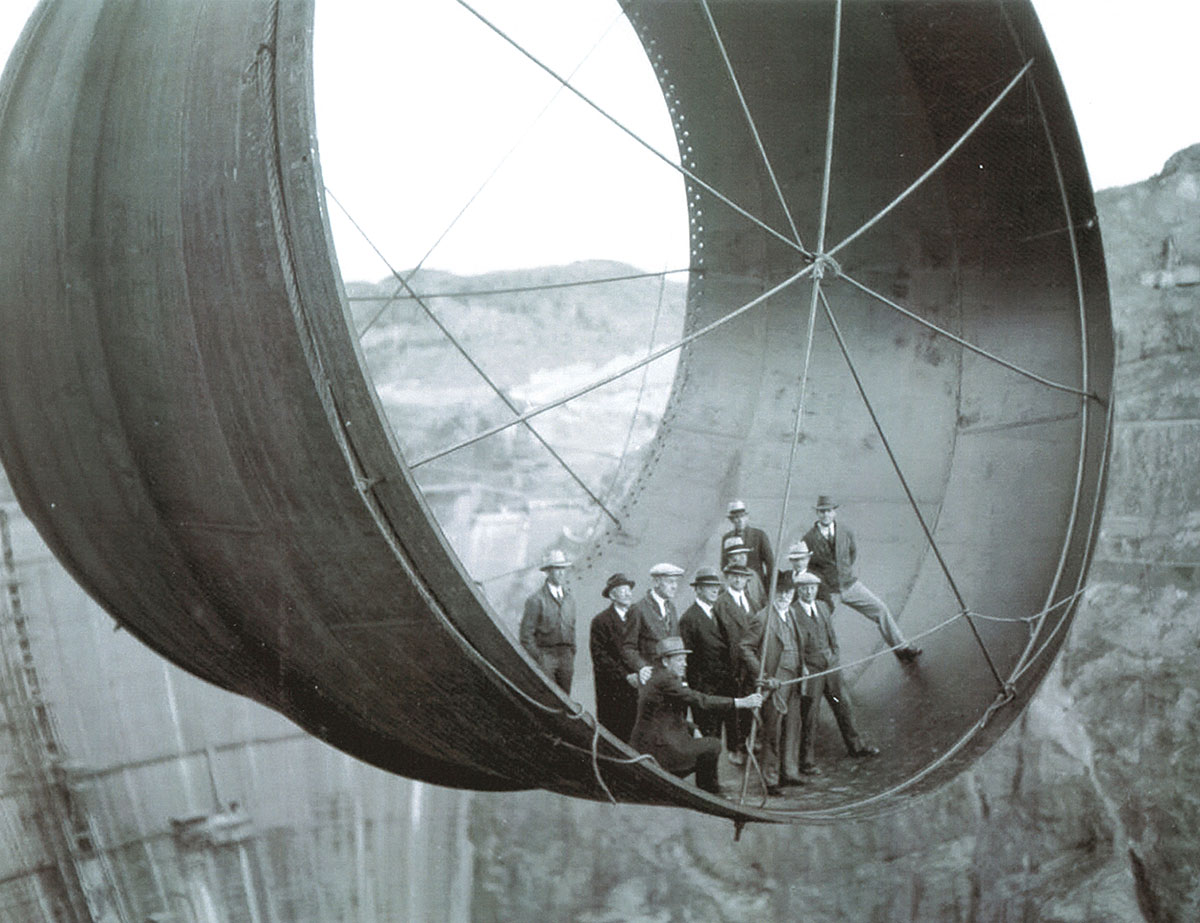 Officials riding in penstock pipe of the soon-to-be-completed Hoover Dam
Founded in 1900, The Utah Construction Company was a legendary Eccles-led enterprise. While its early years focused on railroad building — including more than 700 miles of track for the Western Pacific Railroad — it was renowned for leading the construction of the Hoover Dam from 1931-1936. Post WWII, under Board Chair Marriner Eccles, the company expanded internationally in mining and other industries, changing its name to Utah International, Inc. It merged with General Electric in 1976 in the largest corporate merger in history at the time.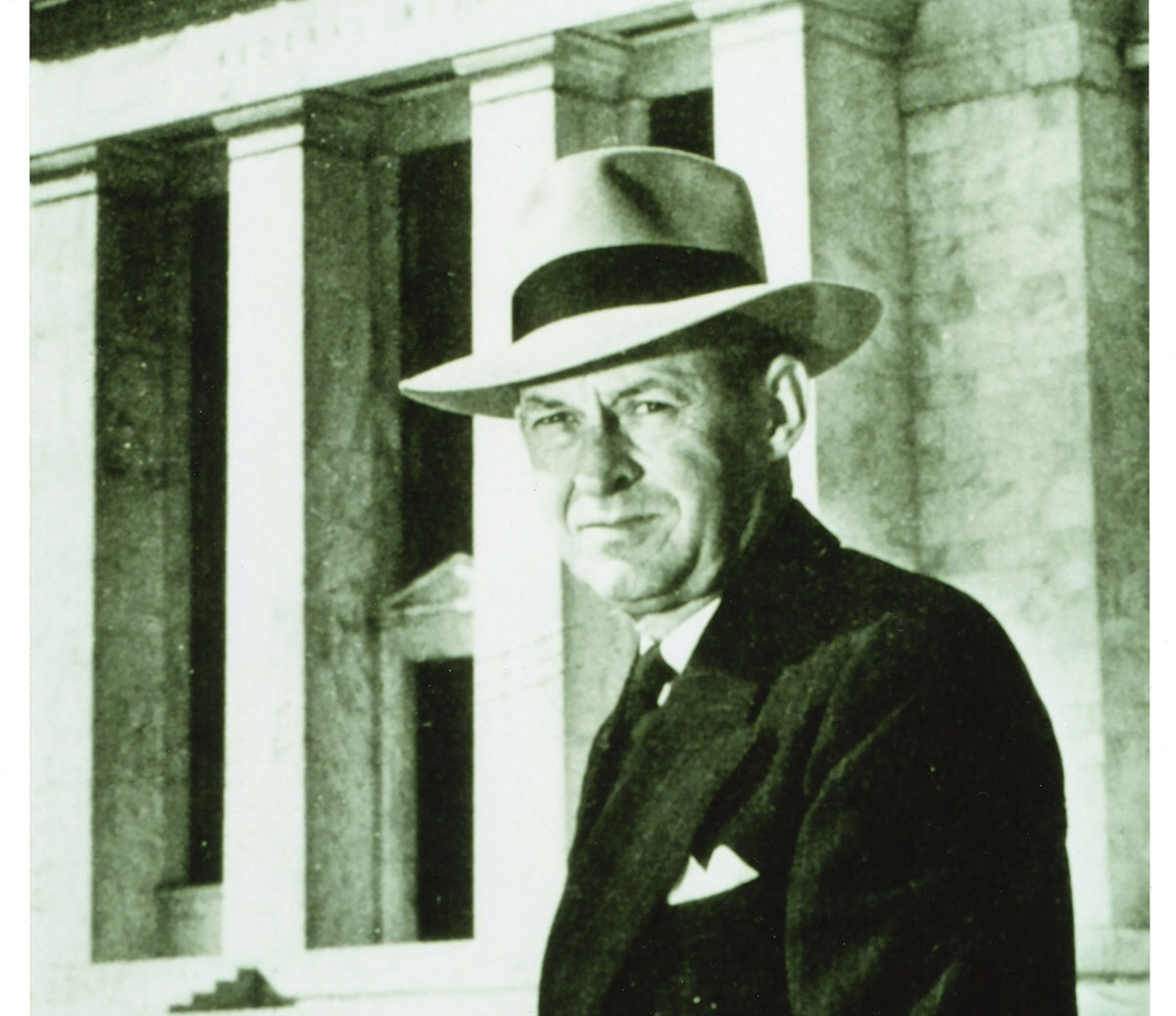 Marriner S. Eccles (1890-1977)
Pictured here in front of the U.S. Federal Reserve Board Building in Washington, D.C. that bears his name, Marriner was the eldest son of David and Ellen Eccles. A co-founder of First Security Corporation, he became a businessman and banker of historic dimension who later, as Treasury Secretary and Federal Reserve Chair under U.S. President Franklin Roosevelt, played a key role in delivering the nation from the Great Depression and World War II. He is acknowledged as the "Father of the modern Federal Reserve" and an individual who most influenced the business and economic life of the U.S. for the century spanning 1890-1990.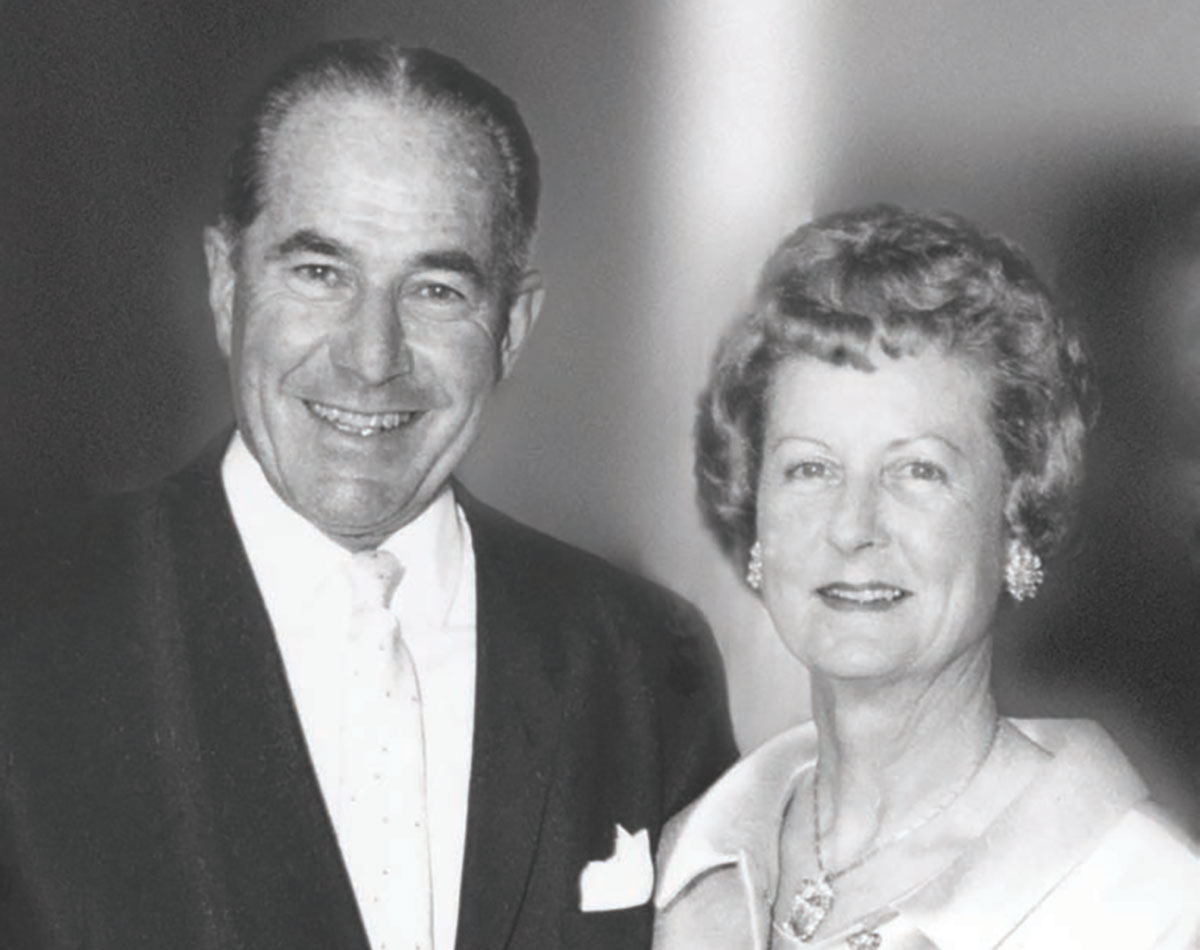 George S. Eccles (1900-1982) and Dolores Doré Eccles (1902-1994)
The lasting legacy of this couple, who were among Utah's most active and generous community leaders, continues to benefit Utahns statewide through the extraordinary generosity of the charitable foundation they created that bears their names — one of the largest charitable foundations in the state. A co-founder of First Security Corporation, and its Chairman & CEO from 1945 to 1982, George was a leading figure in the banking industry in Utah and nationally. One of the nine children of David and Ellen Eccles, he and his brothers, Marriner, Spencer, and Willard, led the growth and success of First Security for more than four decades.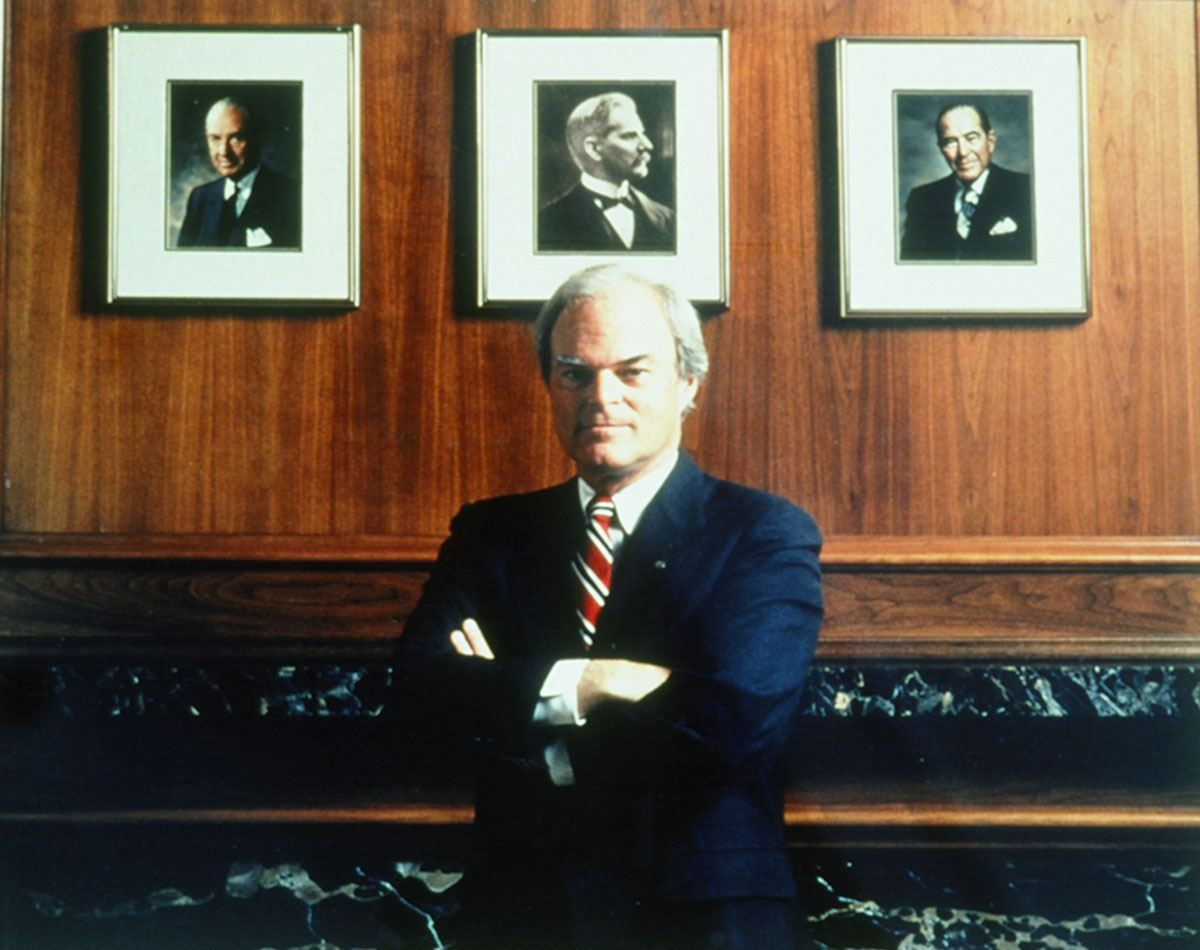 Spencer Fox Eccles, Chairman & CEO, First Security Corp., 1982-2000
A grandson of David Eccles, Spencer F. "Spence" Eccles carried on the family's leadership of First Security Corp for nearly 40 years. Born and raised in Ogden, he has invested his time and resources generously on behalf of his fellow Utahns, building on the family'slegacy of generosity both personally and as Chairman & CEO of the George S. and Dolores Doré Eccles Foundation and a board member of four other Eccles foundations. As one of Utah's most influential leaders, he played a key role in Utah's successful 2002 Olympic Winter Games, proudly sharing this great state with the world through his service and generous philanthropy, and earning the highest honor from the International Olympic Committee, the Pierre de Coubertin medal. Spence has been a long-time champion of his beloved alma mater, the University of Utah, where he has served as the Board of Trustees Treasurer for more than 40 years. He has also served on the boards of Union Pacific, the National Park Foundation, and the U.S. Ski & Snowboard Foundation, among many other organizations. He is committed to providing opportunities for youth and improving Utah communities through higher education, sports, business, and healthcare – including 40 years on the Intermountain Healthcare Board. As chairman emeritus of Wells Fargo's Intermountain Banking Region, he remains active in banking and community affairs.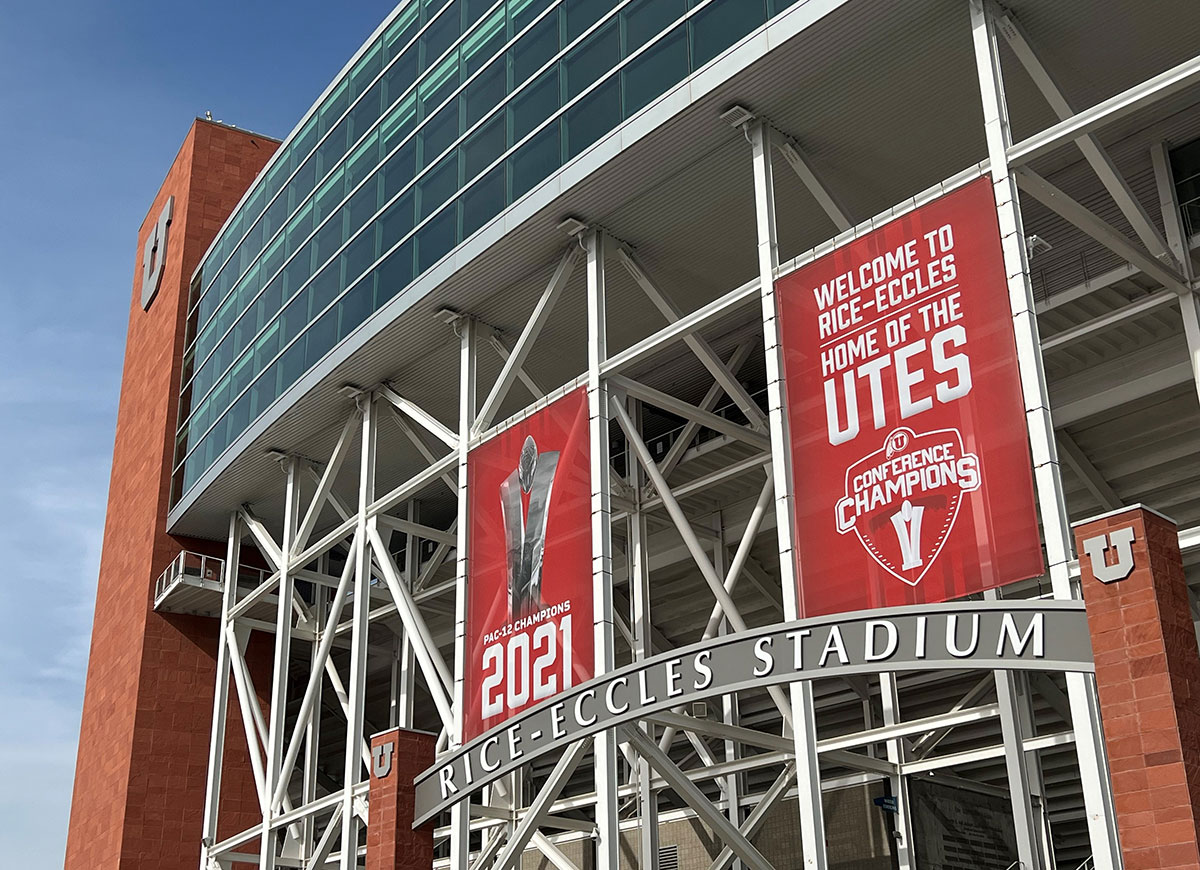 Rice-Eccles Stadium, University of Utah, Salt Lake City
Home to the University of Utah's NCAA Division I football program — and a venue for innumerable community events — Rice-Eccles Stadium is a landmark on the eastern slope of the Salt Lake Valley. With generous funding from the George S. and Dolores Doré Eccles Foundation, it received state-of-the-art modernization and expansion in time to welcomethousands of worldwide visitors for the Opening and Closing Ceremonies of the 2002 Olympic Winter Games in Utah. The Olympic Cauldron Plaza, commemorating the Games, is located adjacent to the stadium.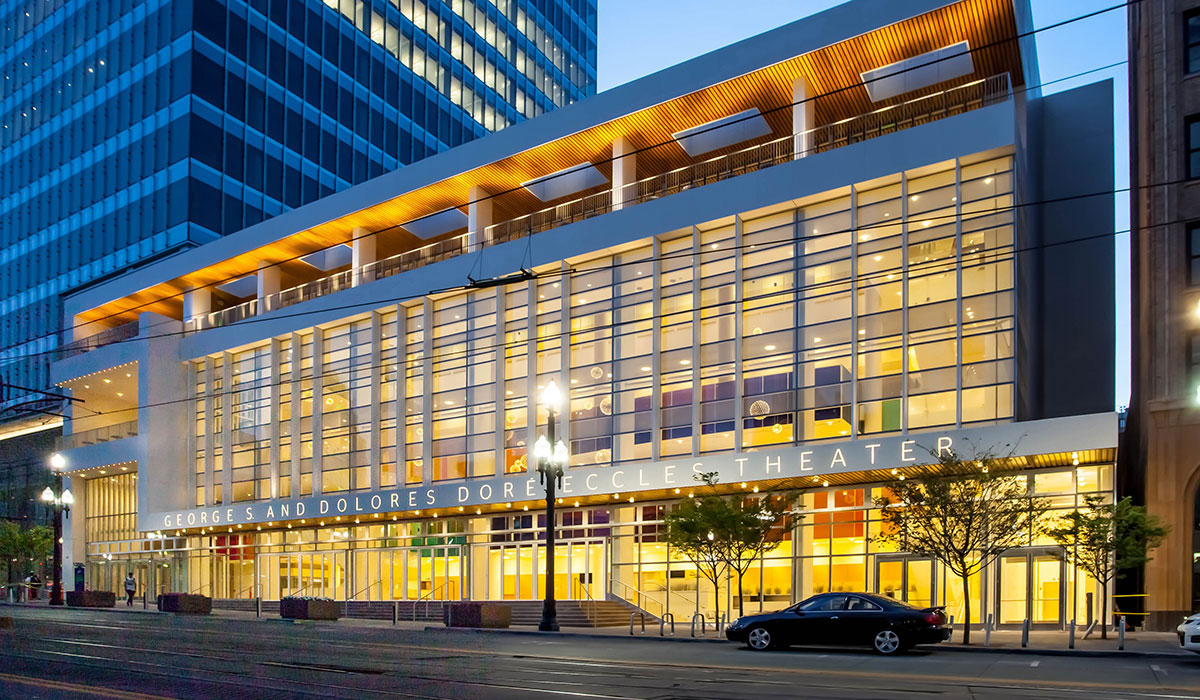 George S. and Dolores Doré Eccles Theater, 131 S. Main St., Salt Lake City
A focus on the fine arts in Utah, dating back to its early pioneers, remains robust throughout the state. Since its opening in 2016, this 2,600-seat state-of-the-art venue — located just steps away from the historic First Security Building in downtown Salt Lake City — has further elevated the capital city as a performance destination and cultural center in the lntermountain West. A major grant from the George S. and Dolores Doré Eccles Foundation led the public-private funding partnership that brought this extraordinary "home of the arts" to life for Utahns and visitors alike, offering Broadway touring productions along with other live theatre, musicals, ballet, dance, lectures, community events, and more.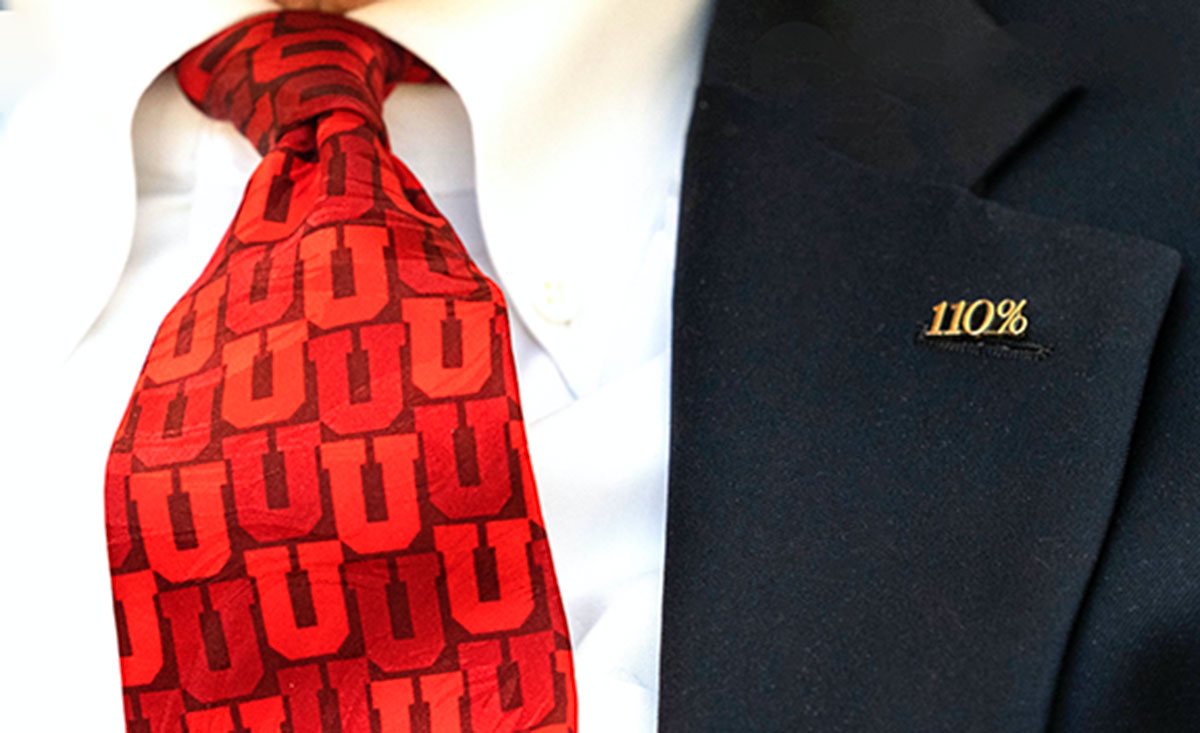 "Giving 110%": First Security corporate slogan
Throughout the 1990s, "Giving 110%" in service to its customers was the recognizable and highly successful theme at the heart of the Eccles-led First Security Bank's marketing and customer service. Through the years, it has remained a lasting theme even in the philanthropic programs of the Eccles family, evident in 2021 when the George S. and Dolores Doré Eccles Foundation and Nora Eccles Treadwell Foundation, founded by two of the children of David Eccles, jointly awarded a landmark $110 million grant to the University of Utah's Spencer Fox Eccles School of Medicine. The school's name recognizes its namesake's decades of involvement and generosity at his alma mater, including education, research, and patient care programs in the health sciences.