The George S. and Dolores Doré Eccles Foundation is dedicated to serving the people of the State of Utah by carrying forth the philanthropic interests and goals of its founders. The Foundation supports projects and programs that have the potential to make a significant difference in bettering Utah's communities and enriching the quality of life of its citizens.
Our History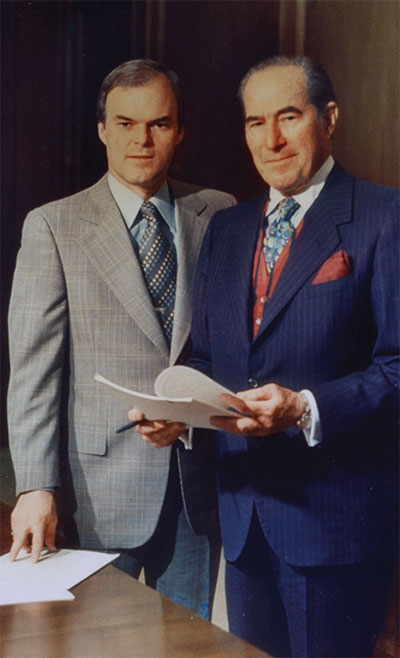 First Security leaders Spencer F. Eccles (president) and George S. Eccles (chairman) in the 1980s.On December 29, 1958, the George S. and Dolores Doré Eccles Foundation was officially established by its namesakes. In the 60 years that have followed — particularly since the Foundation became most active after George's passing in 1982 — the goals and legacy of our founders have continued to guide us every step of the way. Even after six decades, we remain inspired by their leadership and ethics, their personal words and deeds that set the course of their philanthropy, and the potential to make a lasting impact for good in the lives of all Utahns with the resources they set aside.
As stewards of their legacy, our directors' philanthropic priorities and goals remain those they set forth: to make a real and lasting difference in the development of Utah's cultural and intellectual resources, while also helping people in need throughout the state.
What George and Dolores Eccles entrusted to us is remarkable by any measure. What it has made possible is even more remarkable. Their foresight and generosity have enabled the Foundation to invest more than $600 million throughout Utah, benefitting communities large and small alike spanning every corner of the state. In keeping with their generous tradition of philanthropy, our grant-making remains focused in the following five areas:
Arts and Culture
To ensure that world-class artistic and cultural opportunities are available for artists and audiences in Utah's cities and towns statewide;
Community
To address social service challenges to assist those in need, while also investing in innovative opportunities and community resources for the betterment of all;
Education
To foster excellence in higher education through support for students, faculty, programs and facilities throughout our state;
Health and Wellness
To advance the highest quality and accessibility of health and wellness organizations, programs and services;
Preservation and Conservation
To invest in the protection of Utah's vital lands, waters, air and natural resources, and the preservation of treasured historic places and traditions for future generations.
The George S. and Dolores Doré Eccles Foundation was established in perpetuity. In short, we are here for the long haul. While challenges and opportunities await us, we look forward to continuing to invest our resources wisely in the well-being, growth, achievements, health, welfare and happiness of the citizens of Utah.
Looking ahead, our mission is to continue to make a meaningful difference while leveraging our resources with those of others to maximize impact. We seek to help energize our fellow citizens, statewide leaders, public officials, and non-profit partner organizations in reaching the important goals that set the stage for Utah's bright future.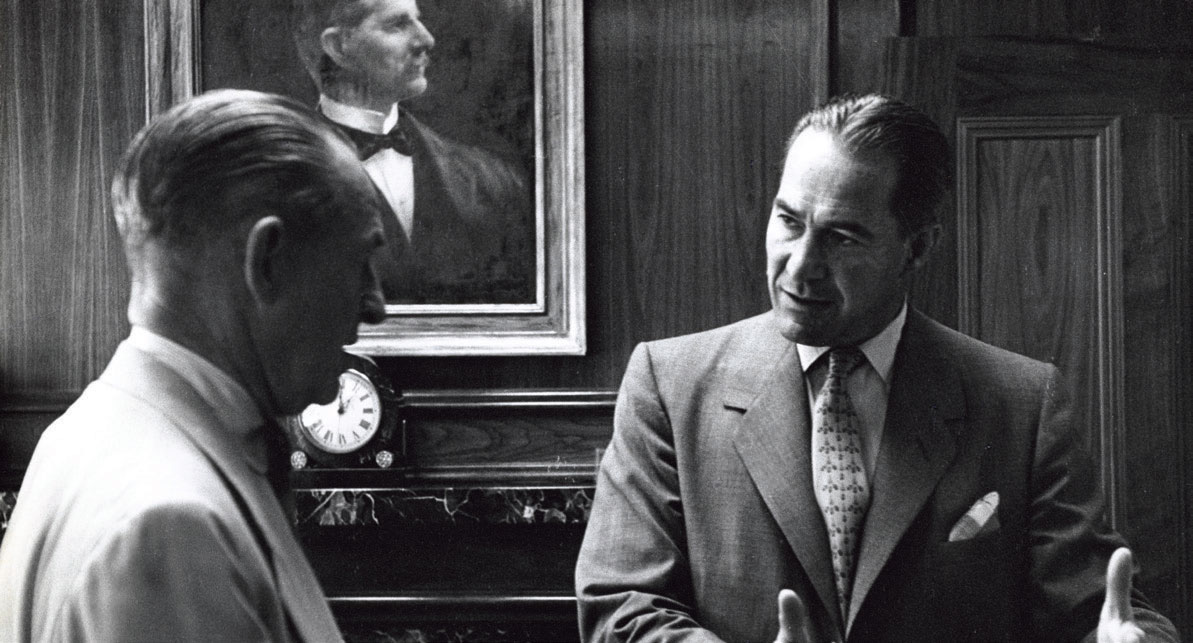 Brothers Marriner (l) and George Eccles at First Security headquarters, in front of the portrait of their father, 1952
Our Legacy
The George S. and Dolores Doré Eccles Foundation remains the most visible reflection of the legacy of Mr. and Mrs. Eccles and First Security Corporation. Led by George S. Eccles for more than four decades, First Security was the nation's oldest and largest operating multi-state bank holding company at the time of its historic merger with Wells Fargo in 2000. First Security corporate headquarters were located on the corner of 100 South and Main Street in downtown Salt Lake City – the capital city's historic "banking corner," where a bank has stood since the days of Brigham Young.
Today, it is home not only to a Wells Fargo bank branch, but also numerous businesses and the offices of the George S. and Dolores Doré Eccles Foundation.